Future Fields and Jenthera Therapeutics Collaborate to Develop Novel Protein for the Delivery of Cancer Biologics

Two Canadian companies combine new drug delivery mechanism and bioproduction platform to enable more cost-effective, scalable, and sustainable method to mass-produce therapeutic recombinant proteins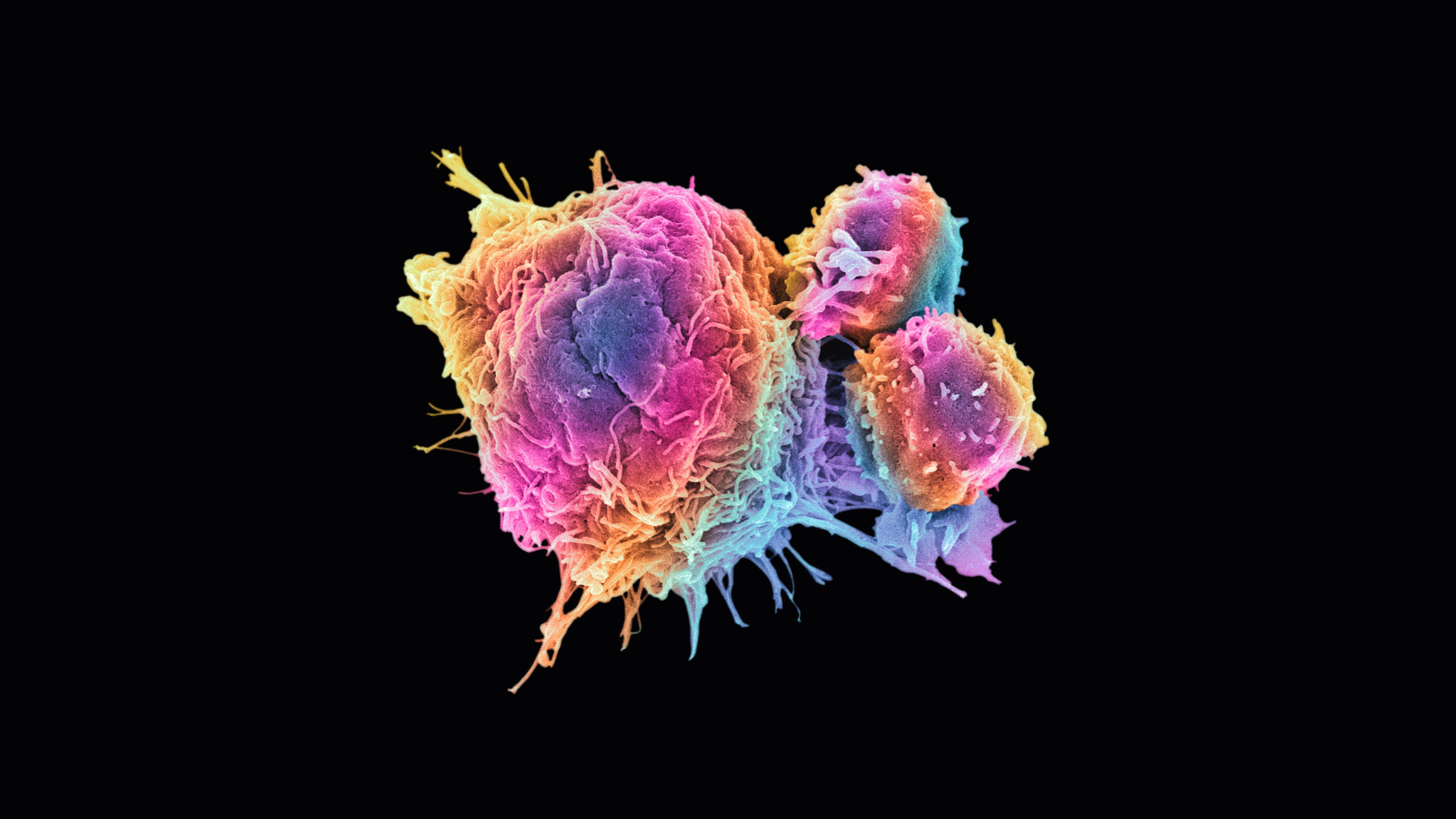 Image: Colourful, computer generated image of T lymphocytes attached to cancer cell (Source: Science Photo Library).
EDMONTON, Alberta, Canada (June 13, 2023) – Future Fields, a pioneering biotechnology company that has built the world's first synthetic biology system to use fruit flies for recombinant protein production, and Jenthera Therapeutics, a gene editing company focused on delivery of the CRISPR ribonucleoproteins (RNPs), today announced a collaboration focused on the manufacturing of a first-of-its-kind cancer-fighting protein. The Future Fields platform, the EntoEngine™, will be used to mass-produce this novel protein under development more sustainably and cost-effectively than conventional approaches to biopharmaceutical production techniques. Future Fields is actively engaging with big and small biotech companies alike to form research collaborations for strategic proteins of interest. The company is well-positioned with its flexible platform to take the lead in sustainably mass-producing specific, complex proteins cost-effectively and at scale.
Harnessing the power of CRISPR, Jenthera Therapeutics has created a new, safer in vivo delivery mechanism for protein-based drugs via intravenous injection, eliminating the use of viruses, lipids or nanoparticles, which are expensive to produce and require large manufacturing facilities. Following sustainable production with the EntoEngine™, Jenthera can deliver tailored gene editing complexes that selectively target the genomes of cancer cells, delivering in vivo anti-cancer therapeutics. The direct delivery of the ribonucleoprotein presents the optimal safety profile in terms of off-target incidence and immunogenicity. In clinically relevant models in vivo, Jenthera's gene editing complexes have shown high efficacy and tolerance, excellent bio distribution and safety from off-targets and immunogenicity.
"This collaboration with Future Fields reflects our commitment to seeking new and innovative approaches to cost-effectively provide high-quality gene editing biologics at scale, and enable us to advance our sustainability goals," said Philip Roche, PhD, CEO of Jenthera Therapeutics. "With the EntoEngine™ platform, we can achieve large yields of our novel protein therapeutic, and spool up towards GMP much faster than other cell-based methods. This is integral to our strategy of delivering groundbreaking therapeutics and transforming oncology."
Future Fields is advancing a new biomanufacturing paradigm by harnessing fruit flies. With its biomanufacturing platform, the EntoEngine™, the company is focused on making significant strides to increase the supply of recombinant proteins for biological drugs, shrink the cost of research and development, and diminish the carbon footprint of bioreactors. Future Fields aims to help the biopharmaceutical industry reduce the carbon impact caused by traditional bioreactors and enhance sustainability through synthetic biology.
"We're incredibly excited to partner with the Jenthera team to bring cutting-edge, low-cost, and sustainable therapeutic proteins to patients in the clinical setting," said Matt Anderson-Baron, co-founder and CEO of Future Fields. "This collaboration is the first of many demonstrations of the EntoEngine's capabilities for revolutionizing biologics production and we're excited to be starting with Jenthera's groundbreaking technology in high-fidelity gene-editing complexes. The potential impact of this partnership on treating human diseases is limitless."
---
---
About Future Fields
Future Fields is a fly biotechnology company based in Edmonton, Canada. Founded in 2018, Future Fields is on a mission to change how we do science for humanity and the planet. Our biomanufacturing platform, the EntoEngine™, is the first synthetic biology system in the world to use fruit flies for recombinant protein production. Powered by people and fly by design, we're equipping industries with the biomolecular tools they need to sustainably, ethically, and economically conduct great science.
As of 2023, our lab has been Green-certified by My Green Lab, and our FGF2 are the first growth factors in the world to receive the ACT Environmental Impact Factor Label. Future Fields is a proud business member of 1% for the Planet and the United Nations Global Compact initiative.
Learn more about how we're transforming science at futurefields.io.

About Jenthera Therapeutics
Jenthera Therapeutics is a preclinical gene editing biotech leveraging its non-viral, non-lipid direct protein delivery CRISPR platform towards the development of groundbreaking therapeutics in oncology. Our platform directly delivers the CRISPR ribonucleoprotein (RNP) in the format of a biologic, minimizing toxicity, off target effects, immunogenicity, and costly manufacturing. Our platform technology can target a wide variety of cells and tissues, and proposes to unlock new realms of possibilities in gene editing. Jenthera is actively pursuing in-vivo CAR using CRISPR RNP as our lead program and preclinical opportunities in oncogenic driver knockout. For more information, go to: www.jenthera.com
This press release contains forward-looking statements. These forward-looking statements reflect Future Fields and Jenthera Therapeutics' views at the time such statement were made with respect to future events and are not a guarantee of future performance or developments.