Future Fields Announces New Paradigm in CDMO Services Optimized for Small-to-Medium-Sized Biopharma Companies

Future Fields' novel bioreactor-free CDMO service enables more sustainable and cost-effective development and manufacturing of biologics, from research use only to pre-clinical therapeutic proteins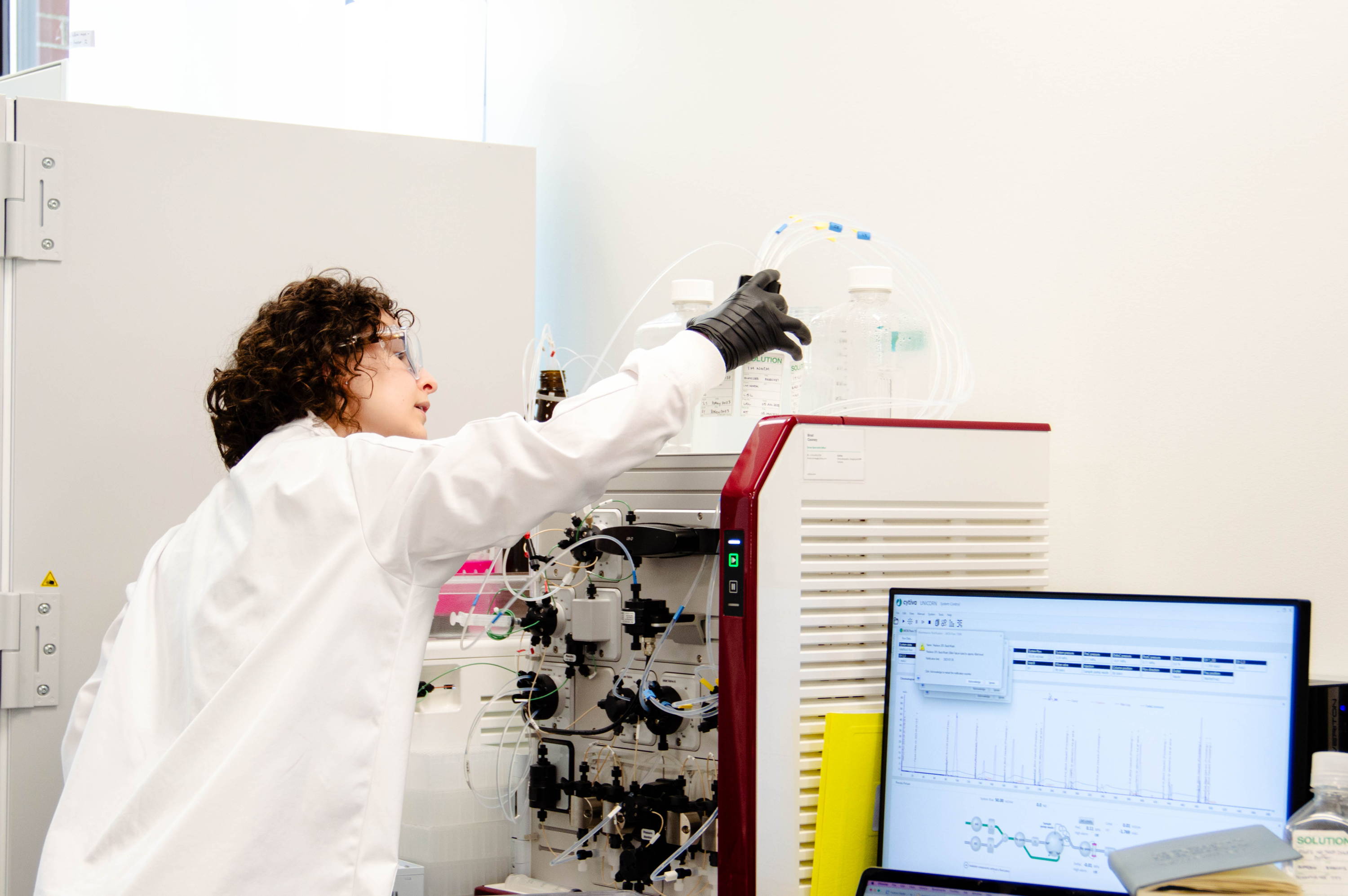 Paige, a senior research scientist at Future Fields, operates chromatography equipment in Future Fields' Green-certified lab.
EDMONTON, Alberta, Canada (September 20, 2023) – Future Fields, a pioneering biotechnology company that has built the world's first synthetic biology system to use fruit flies for recombinant protein production, today announced the launch of its contract development and manufacturing organization (CDMO) service. Tailored to meet the needs of small-to-medium-sized biopharmaceutical companies, this new CDMO offering leverages the company's proven EntoEngine™ platform to deliver a faster and more affordable solution for the design and production of industry-compliant, high-quality proteins.  

"Small and mid-sized biopharma companies are already looking to Future Fields for flexible, lower-cost custom protein services that are eco-friendly and capable of bringing therapeutics to market faster, and we are pleased to make this offering more broadly available," said Matt Anderson-Baron, PhD, co-founder and CEO of Future Fields. "This unique CDMO service strategically complements our established reagent offering and offers these innovative companies a validated therapeutic or research use protein development and biomanufacturing solution powered by our proven EntoEngine platform."
By establishing its bioreactor-free CDMO service as a first-of-its-kind offering tailored for emerging biopharmaceutical companies, Future Fields is bringing unparalleled capacity, capabilities, and cost-savings to the CDMO market. The company's entry into this space is supported by a multi-pronged strategy that includes:
Stable, highly reproducible results at an affordable price

Ability to produce any volume of proteins with a single platform without being constrained by bioreactor capacity

A 20,000 sq-ft state-of-the-art manufacturing facility that can scale to any size program

A Green-certified lab, the highest level of sustainable lab certification from My Green Lab

Guidance provided by a well-rounded advisory board with extensive CDMO-related experience
"Future Fields is advancing a new paradigm for lower-cost protein development and biomanufacturing by harnessing fruit flies," said Mike Brownleader, PhD, 20-year veteran in the CDMO industry. "Its EntoEngine platform has already been proven as highly successful at supplying high-quality, recombinant proteins. Scaling up and down for small-batch needs, Future Fields excels at mass-producing proteins more cost-effectively and sustainably than conventional approaches used by other CDMOs."
Using fruit flies as 'factories' for therapeutic and research use only proteins is a novel approach to bringing more scalable and sustainable solutions to biomanufacturing. With its biomanufacturing platform, EntoEngine™, the company is focused on making significant strides to increase the supply of recombinant proteins for biological drugs, armed with the capability to scale to 1.2 kilograms of daily production within two months. In addition to scale, Future Fields aims to shrink the cost of research and development, and diminish the carbon footprint of bioreactors, which are typically big steel tanks or single-use technology. Future Fields strives to help the biopharmaceutical industry reduce the carbon impact caused by traditional bioreactors and enhance sustainability.
Advisory Board Expansion
Future Fields also announced today the addition of three new advisors to its Advisory Board. These industry experts will assist the company in gaining momentum and traction within the CDMO market. The new advisors are:
Chuck Hart − A well-seasoned industry leader with 32 years of biologics manufacturing experience. He has extensive late-stage and commercial operations experience as well as program and project leadership experience. Mr. Hart has worked with large biopharma companies, such as Amgen, Shire, Genzyme, GlaxoSmithKline, and Wyeth, and he has led small-and-medium-sized biopharma companies.

Anna Seymour-Slight – An experienced Managing Director and VP in the Life Sciences industry, having created and run the European commercial and distribution network and businesses of a global biotech business for over 29 years. She played a critical role in building PeproTech, its brand, client base, operations and market share globally.

Sreesh Srinivasa, PhD – Industry veteran with 25 years of global experience in drug discovery and development; successful track record of developing strategies, teams and organizations to support biologic therapeutic programs across diverse organizations in the U.S., Europe and India. During his professional career, Sreesh has held leadership positions at CGI Pharma (now Gilead), Pfizer, Jubilant, Piramal, Biocon and Oblique Therapeutics.
"In the dynamic landscape of biotech innovation, this innovative new CDMO service from Future Fields offers small to medium-sized biotechs a proven, high-quality offering that delivers the flexibility and consistency companies on the frontiers of discovery and new therapy development are seeking," said Mr. Hart. "Now, companies at every stage of development can access CDMO services that enable them to accelerate the development of their protein-based therapeutics."  
Future Fields CDMO service features include:
Custom batch sizes

Low production and development costs

Quality standards that meet research-use only and pre-clinical needs

Betterment for the planet
About Future Fields
Future Fields is a fly biotechnology company based in Edmonton, Canada. Founded in 2018, Future Fields is on a mission to change how we do science for humanity and the planet. Our biomanufacturing platform, the EntoEngine™, is the first synthetic biology system in the world to use fruit flies for recombinant protein production. Powered by people and fly by design, we're equipping industries with the biomolecular tools they need to sustainably, ethically, and economically conduct great science.
As of 2023, our lab has been Green-certified by My Green Lab, and our FGF2 are the first growth factors in the world to receive the ACT Environmental Impact Factor Label. Future Fields is a proud business member of 1% for the Planet and the United Nations Global Compact initiative.
Learn more about how we're transforming science at futurefields.io.

This press release contains forward-looking statements. These forward-looking statements reflect Future Fields' views at the time such statement were made with respect to future events and are not a guarantee of future performance or developments.